Dude Ranches That Give Back to a Wide Variety of Worthy Causes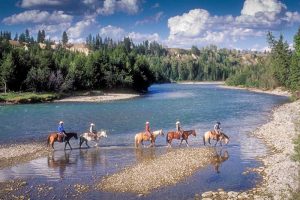 Giving back and helping others are two of life's most important values. Eight of America's top dude ranches, have joined forces to help support a wide variety of worthy causes and provide vacations for special needs families and other charities. Bestduderanches.com is comprised of like-minded guest ranch owners who are passionate about making a difference, supporting philanthropic causes and creating lasting memories for those who otherwise may never have the opportunity to enjoy a dream vacation.
Steeped in history and authenticity, these ranches are among the "best of the best" in providing dream vacations. The natural beauty of the West, combined with the values inherent in the cowboy lifestyle, provides inspiration and motivation to those who are in a fight of their life or have special needs. A key characteristic of all dude ranch vacations is creating life-changing experiences and indelible memories for all of their guests.
All these ranches have a long tradition of hosting families and guests from special philanthropic groups. Some of the organizations and groups these ranches have worked with include: Wounded Warrior Project families; Make-A-Wish Foundation families; Gold Star Families; Jack and Jill Cancer Foundation families; National Breast Cancer Foundation families; Special Forces warriors; families with special needs children and others. Hundreds of children and families facing monumental challenges have found great pleasure, relief, and lasting memories while vacationing at one of the below ranches that make up Bestduderanches.com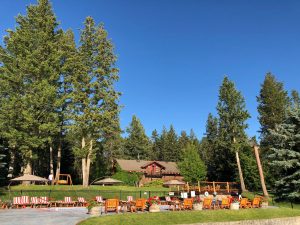 Flathead Lake Lodge
This ranch will be celebrating their 75th anniversary this year and they are so grateful and appreciative that they have been able to carry on this family tradition, for so many years they want to give back in a big way. They are doing "A week of hope" where 20 critically ill children and their families will be at Flathead Lake Lodge from June 7 – 14, 2020 experiencing life the way it's meant to be – running fee, soaking up Montana and creating memories that will last forever. Find out more here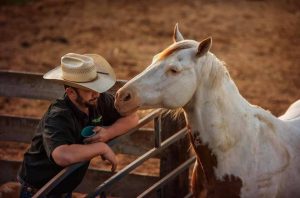 Three Bars Cattle and Guest Ranch
The Beckley family has worked with Make A Wish Foundation as well as with Starlight Foundation (same as make a wish here in Canada). They have fully comped families of 4 and 5 with a child that had cancer. Three Bars believes that a family who is dealing with a sick child needs time to escape and forget the hospitals, Doctors and all that goes with treating cancer and just be a family sharing awesome experiences together that they can take with them forever.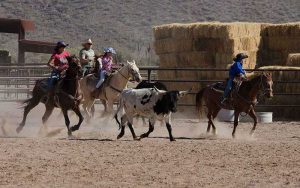 White Stallion Ranch
The True Family owners and operators of  the White Stallion donate an average of 75 gift certificates per year to local, state and national charities who have requested donations for their Fund-Raising events. These certificates typically offer a 2-night stay for 2 but can be as generous as a week's stay. The ranch is also a host property for the Make A Wish Foundation, and have had the privilege of hosting Wish Children and their Families from as far away as Ireland. They are supporters of the Jack & Jill Foundation as well as the Wounded Warrior Foundation. Their largest event for Wounded Warriors was a Combat Stress Recovery program that offered a special weekend of counseling, camaraderie and family activities. The True family also provides support to local high school sports teams and special needs classes as well as providing function rooms and meeting space for local nonprofit organizations and political events.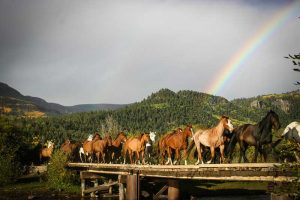 Rainbow Trout Ranch
Over the years they have donated many ranch weeks to charities such as Families First, Make a Wish, The Epilepsy Foundation, and most recently, Praying Hands, a therapeutic horse program for the disabled. Over the years they have donated trips to college foundations, Boys & Girls' Clubs, Trout Unlimited and public television. They believe strongly in donating to various charities and organizations rather than a single entity. They feel they are privileged to make a living in a unique industry, and as such, they give back by sharing the western lifestyle in ways that truly benefit others.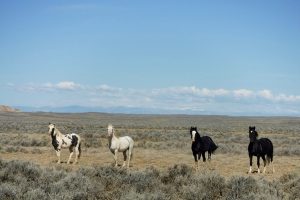 The Hideout Lodge and Guest Ranch
Another very worthy cause that a couple of the ranches have taken on is the plight of the Wild Mustang. The Mustang is not on any endangered list at this time, though there are people petitioning to change that. About 100 years ago, about 2 million mustangs roamed the North American terrain. Now, there are fewer than 25,000 mustangs left in the wild, according to the Humane Society. Reading about the many challenges facing this icon of the west, The Hideout began adopting these magnificent animals and implementing them into their horse program at the ranch. Their herd of Mustangs has grown to about 30 horses. The ranch uses respectful, relationship based natural horsemanship methods to gentle their Mustangs which is consistent with how they handle all of their amazing herd of horses.
White Stallion Ranch also has Wild mustangs in their string of horses and as of Spring of last year they are the host property for BCI, a new non-profit organization that pairs veterans with Mustangs in a week long program that focuses on equine assisted learning programs.
Not only do these ranches give back but they are all strongly committed to sustainability and being good stewards of their land. These top dude ranches treasure the beauty of their surroundings and work to protect their abundant natural resources. The ranches have put in place environmental management programs that promote recycling and help to conserve water and energy.
Check out all eight member ranches in more detail here